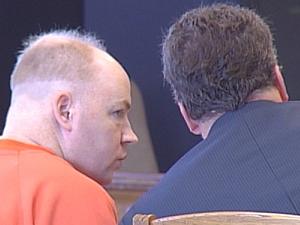 Scott Robinson, pictured at a court appearance in 2011, is charged with convincing another inmate to commit perjury.
DUBUQUE (KWWL) -
A Dubuque man serving a life sentence for kidnapping is now charged with convincing another man to commit perjury.
Scott Robinson, 34, of Dubuque, was served a warrant for suborning perjury, or persuading someone else to commit perjury, while in the Dubuque County Jail on Wednesday.
He was in Dubuque for court proceedings related to second-degree sexual abuse charges.
Robinson is currently serving a life sentence at the state penitentiary in Fort Madison after being convicted of first-degree kidnapping earlier this year. Robinson forced a woman to stay in her apartment and then abused her in October 2011.
Another inmate at the Dubuque County Jail testified the victim in the kidnapping case lied during the investigation, according to police. But later, the inmate said Robinson actually wrote the story and rehearsed it with him.
The inmate said Robinson offered to pay several thousand dollars for the false testimony, but the inmate says he was never paid.
Suborning perjury is a class D felony punishable by up to five years in prison and a fine of $750 to $7,500.