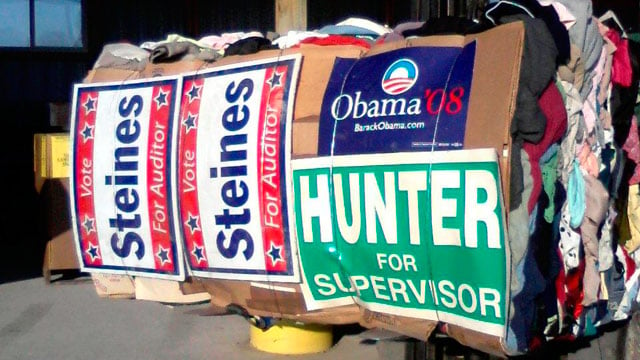 Winneshiek County will accept campaign signs for recycling. The signs can come from anywhere.
WINNESHIEK COUNTY (KWWL) -
Viewers looking to recycle their campaign signs can do so in Winneshiek County.
The county will accept all campaign signs starting Wednesday, said Terry Buenzow, recycling department manager for Winneshiek County.
The county began accepting campaign signs for recycling in 2010.
Buenzow said he expects "at least double" the number of signs in this election because it was a presidential election.
"It is obvious, based on the huge number of them you see all across Iowa," he wrote in an email.
A container for the signs will be placed in the drop-off facility at the Winneshiek County Recycling Center in Decorah. The center is located at 2510 172nd Ave., in the Freeport Industrial Park.
New road signs have been installed to make it easier for first-time users to find the recycling center.
Those wanting to recycle their signs don't have to live in Winneshiek County. Buenzow said they will accept signs from anywhere.

"Campaign signs don't fit in a trash can anyway so you might as well recycle them," he said.