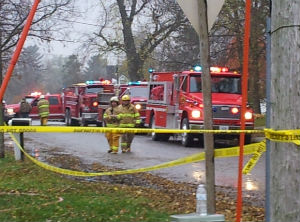 CENTRAL CITY (KWWL) -
One person was injured on Friday afternoon during a fire in Central City.
Fire fighters were called to a four-plex on North 8th Street.
Benjamin Smith, age 24, was burned and taken to St. Luke's Hospital in a private vehicle. His condition has not been released to the public.
The Linn County Sheriff's Office says the American Red Cross was contacted to assist other residents of the building.
The neighbor who called it in said she heard a very loud explosion from the fire, but investigators are not releasing any information on what sparked the blaze.
The investigation continues.