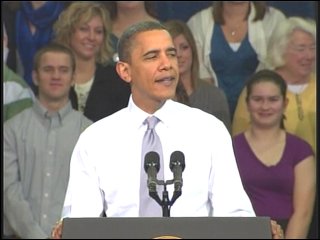 MT. VERNON (KWWL) -
President Barack Obama will make a campaign stop at Cornell College in Mt. Vernon Wednesday.
Mr. Obama will speak at Armstrong Hall on the Cornell College campus Wednesday morning. Doors open at 9:15 a.m. Tickets are required. People can pick up tickets starting Sunday at 4 p.m. at the following locations:
Cornell College – Thomas Commons
810 Commons Circle
Mount Vernon, IA 52314
Linn County Democrats
2857 Mt. Vernon Rd. SE
Cedar Rapids, IA 52403
OFA-Iowa Cedar Rapids Field Office
4358 16th Ave SW
Cedar Rapids, IA 52404
OFA-Iowa Marion Field Office
119 Marion Blvd.
Marion, IA 52302
President Obama's last visit to Eastern Iowa was on September 7 when he attended a rally in Iowa City. He has visited Cedar Rapids twice this year, the latest was in July.