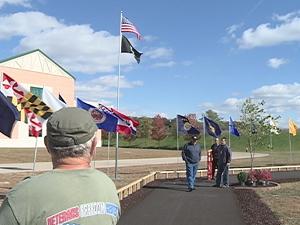 Volunteers finished preparing the site Wednesday in the Port of Dubuque. The wall installation begins Thursday morning.
DUBUQUE (KWWL) -
The Moving Wall, a memorial for Vietnam veterans and those who fought and fell in the war, is coming to Dubuque Thursday.
Wednesday afternoon, volunteers put final touches on the site, which is in the Port of Dubuque and includes an avenue of US state flags. The wall installation begins Thursday morning at 8 a.m.
Jim Wagner is a co-founder of the Veterans Freedom Center in Dubuque and a veteran of the Vietnam War. He said this will be a powerful display.
"I think you're going to see a lot of different emotions from the Vietnam veterans," Wagner said. "It's been 15 years since [the traveling wall has] been here, and I think at that time a lot of the Vietnam veterans weren't quite ready to see it, and I think you'll see a lot more this time."
The wall cost $4,500 to bring to Dubuque. Area businesses donated other necessary materials, such as the temporary sidewalk at the display, plus lighting and tents at the site.
The opening ceremony begins Thursday at 2 p.m. The wall will stay through Monday.
For more details on other events surrounding the wall, click HERE.