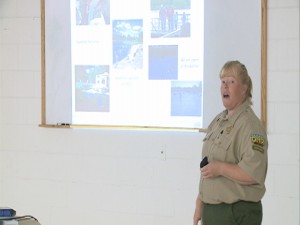 WATERLOO (KWWL) -
George Wyth State Park hosted a meeting Tuesday concerning the state park system.
A series of meetings are being held throughout the state with the Department of Natural Resources asking Iowans what they want from their state park system.
It was also a chance for of the state park officials to get out information such as staffing at the parks and what the parks can offer.
They plan to compile all this information, send it to their Des Moines office and beyond.
"To the directors office and to the legislators to say this is what the public is asking for. This is what they want to see. This is what they are willing to do, these are suggestions they have. It's a way for the public to take ownership of their state park because the public pays for the state parks," said Lori Eberhard, park manager at George Wyth State Park.
Eberherd says a lot of these state parks are still recovering from some sort of major natural disaster.
George Wyth is still working to be completely restored since the 2008 flood.
State parks in Iowa will celebrate their 100th anniversary in 2020.