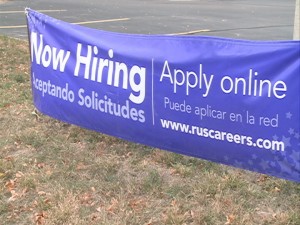 While the unemployment rate has decreased nationwide to 7.8 percent, many Iowans have found themselves still struggling to find work.
Lasharika Neighbors of Waterloo has been unemployed for more than one year. She spent Friday applying for jobs.
"I'm considering anything," she said.
Neighbors is not alone in her job search, but she is hopeful she can cash in on holiday hiring opportunities.
"If I have to work at Target or Toys 'R' Us or Labor Ready, so be it. That's what I'm going to have to do to provide for myself," Neighbors said.
Job staffing experts have been cautiously optimistic while watching the state's unemployment rate drop.
"If you're willing to work hard and can prove yourself, there are companies hiring out there," said Jessica Koenig, staffing manager at City & National Employment.
Koenig said people looking for a job should be able to find one.
"I certainly don't think people are going to find the exact match they're looking for right now," she said. "But I think if people are willing to be flexible and truly want to find work, they will be able to, and we can help them."