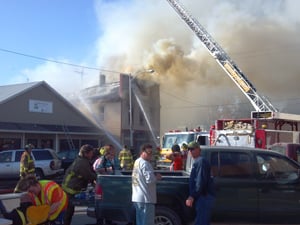 VAN HORNE (KWWL) -
It was hard to miss all the smoke in Van Horne Wednesday afternoon after a fire started around 3:00 PM.
"I don't think I've ever seen anything like this," said Adam Masten of Van Horne.
Crews from multiple Benton County fire departments worked several hours to contain a fire at Long Shots, a bar located at 124 Main Street in Van Horne.
The bar was destroyed in Wednesday's fire. It opened under new ownership in August.
Bar patrons said Long Shot's was known for good sandwiches and beer; they said its afternoon crowd usually started gathering around 4:00 daily.
Rescue crews were able to evacuate the bar and area businesses. No one was hurt in the fire.
The building's owner said this is the second time the building has caught fire. There is an apartment in the back of the bar, but the owner said the tenant was not home at the time of the fire, and that the tenant did not have a pet.
The cause of the fire is under investigation.