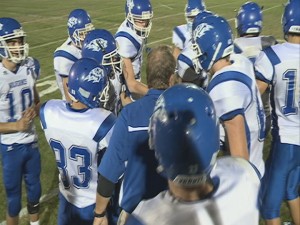 SUMNER (KWWL) -
The Dike-New Hartford Wolverines have been winning games this season by an average of 42-5. But tonight, the Wolverines were expecting a big challenge against a Sumner-Fredericksburg team which has just one loss this season, which came to sixth-ranked South Winneshiek.
After a 284 yard performance last week, D-NH Senior Running Back Terry Mooty picked up right where he left off on the first play from scrimmage for the Wolverines, racing 59 yards for his 14th touchdown of the season, giving D-NH a 7-0 lead.
The Cougars responded on the ensuing drive. QB Dylan Bergman fired 20 yards to Wide Receiver Jalen Tranbarger to know the score at 7-7.
Late in the first quarter, Wolverine Quarterback Carson Parker connected with Levi Lynch to put D-NH ahead 13-7 after a blocked PAT attempt.
In the second quarter, the Wolverines capped off an impressive drive with Parker plunging one yard over the goal line for the touchdown, giving the D-NH a 19-7 lead, after another blocked PAT by Sumner-Fredericksburg.
That remained the score at halftime, and both defenses pitched a shutout in the second half, giving Dike-New Hartford a 19-7 win.
The win moves Dike-New Hartford to 6-0 this season, while the Cougars fall to 4-2.