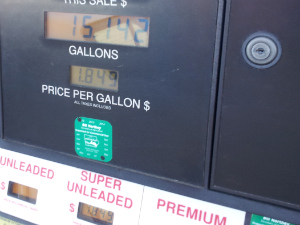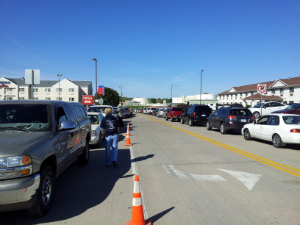 Lines at Coralville Kum & Go gas station
WATERLOO (KWWL) -
A group crisscrossing the country sharing their opinions on the policies of President Obama's administration is bringing $1.84 gas to Coralville and Waterloo on Monday and to Ames on Tuesday.
Americans for Prosperity is using the event to highlight what they call "President Obama's failing green energy policies" by dropping the price of gas to what they say it was before President Obama took office.
The Coralville event, which went from 11:00 a.m. until 1:00 p.m. at the Kum & Go at 822 1st Avenue on Monday, created long lines and did create a few traffic problems.
Organizers say people began lining up at 8:30 a.m. and people were still streaming in as the event came close to an end.
The pumps were down for about five minutes due to technical difficulties, but that was the only problem reported.
Most people we talked to didn't even realize it was a political event, they just came for the cheap gas.
The Waterloo event will be Monday, September 24 from 5:00 p.m. to 7:00 p.m. at the Kum & Go at 117 East San Marnan Drive.
The Ames event will be Tuesday, September 25 from 11:00 a.m. to 1:00 p.m. at the Kum & Go Gas at 4510 Mortensen Road.
Gas will be limited to the first 150 vehicles and each vehicle will be limited to 15 gallons.