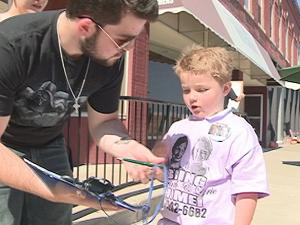 DUBUQUE (KWWL) -
Family members of missing Evansdale cousins Elizabeth Collins and Lyric Cook continue to push for changes to the Amber Alert guidelines.
Saturday at the Dubuque Farmers Market, the girls' great aunt Terri Wainwright, along with her little grandson Wolfgang "Wolf" Stechman, sought signatures on a petition for the Cousins' Law.
The law would amend the Amber Alert guidelines to get the word of missing children out faster and on larger scales.
"This Cousins' Law is not going to help our children, but it will help another child that ends up going missing," Wainwright said.
If the petition garners enough signatures, it will go before the Iowa Legislature in January.