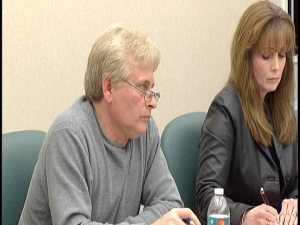 WATERLOO (KWWL) -
Jury selection is underway for a mayor accused of overstepping his authority.
Dunkerton Mayor Michael Schares, along with his nephew Thomas Adamson, are charged with interference with official acts and harassment of a public official. These charges stem from a much publicized December traffic stop.
Jury selection began around 9:00 a.m. Tuesday morning at the Black Hawk County Courthouse. A jury has yet to be selected.
The defense is focusing many of their questions of potential jurors around the presumption of innocence until proven guilty and the potential juror's thoughts on law enforcement.
Officer Robert Roquet says Schares and Adamson interfered when he pulled over Adamson's wife for allegedly speeding in December.
Last week associate Judge James Coil found that none of the powers or authorities of a mayor prevent the state from proceeding with prosecuting the case. Schares' attorney had claimed the mayor was in the city's chain of command and was exercising his ability to fire employees.
Judge Coil says laws apply equally to everyone including mayors who have no special protection.
Opening statements are expected to begin Tuesday afternoon.