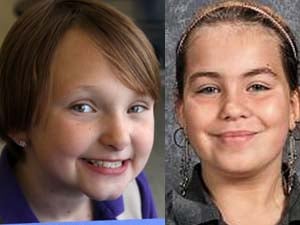 EVANSDALE (KWWL) -
Friday, August 10th marks four weeks since the last time anyone has seen 10-year-old Lyric Cook and then eight year-old Elizabeth Collins in Evansdale.
The two cousins were last seen Friday July 13th and still no new recent updates from authorities in their abduction case.
Meyers Lake was where the girls' bikes were found including a purse and a cell phone. Now, four weeks later, people still come by for a place to gather as they pray for a safe return.
At the beginning of the search, authorities drained the lake leaving no stone unturned. That included FBI dive teams coming in to search the lake.
But that search turned out how the families thought it would, with the girls not in the water. Since then, the case turned into an abduction case with many people on the lookout.
T-shirts, buttons, and posters were made to get their photos out. There has been multiple community efforts to keep hope alive for these girls too. That includes vigils at Meyers lake, letting friends and family members of Lyric and Elizabeth come together.
In fact, Friday night there will be a gathering for anyone who wants to join. It will be at 7:00 p.m. at Meyers Lake. People plan to join together for prayer as well as a large group walk in honor of the missing girls.
If you have any information on this case, call the tip line at 319-232-6682.