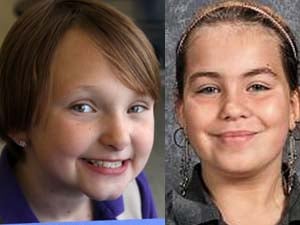 EVANSDALE (KWWL) -
The Federal Bureau of Investigation believes Elizabeth Collins and Lyric Cook are still alive.
With that announcement late Saturday afternoon, FBI spokeswoman, Sandy Breault, breathed some new life into the nine-day investigation into the two girls missing from Evansdale.
Meantime, the parents of Elizabeth Collins are pleading for the kidnapper of kidnappers to release the two girls unharmed.
KWWL News interviewed Heather and Drew Collins Saturday afternoon in Evansdale. The parents also believe the girls are alive.
Drew Collins says, "Someone out there knows something, and they might be too scared to tell. There's two little girls here and they need to tell somebody.Do they have enough courage to just come forward and tell what that is."
Heather Collins added, "We just want to say to those people that The Lord has forgiven them. We have forgiven them. We just want our babies back. Drop them off anywhere. Anywhere safe that they can say Hey, I'm the missing girls. Please call the cops. Please call my parents. We do not want to know who they are. We are not judging them.We just want our girls back safe and sound tonight. We want them back now, as soon as possible." Watch there video.