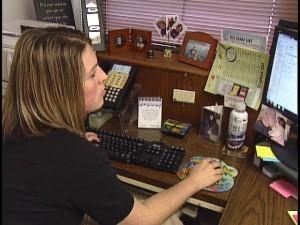 WATERLOO (KWWL) -
It's a crime that is hard to imagine. Cedar Falls police say Daniel Reddout killed his 18-month old son by suffocating him. Reddout denies it.
Officials with Family and Children's Council in Waterloo say stress is one of main factors that leads to child abuse. It's a parent's job to learn how to deal with that stress.
"You don't wake up in the morning and say I'm going to abuse my child today. Parents don't think that way but you do have this happening and again it is in high levels of stress," said Adriane Carlson, the Assistant Director of the Family and Children's Council.
Carl son says child abuse is problem that impacts all walks of life.
"Child abuse can happen in any home. Right now we have families that are experiencing increased amounts of stress due to economic situations or due to employment and so with those increase amounts of stress parents can't focus on positive parenting," said Carlson.
The Family and Children's Council provides a number of education programs for parents, children and even the community, trying to prevent the abuse before it starts.
"We believe if you strengthen the family no matter what type of family that maybe you can in the end then prevent child abuse," said Carlson.
The signs of child abuse can sometimes be hard to recognize. Some of the most notable signs include the child showing sudden changes in behavior or school performance, does not receive medical attention when needed, and the child is continuously lacking adult supervision.